Welcome to Our Service Department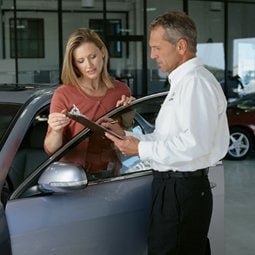 Is it nearly time to change your engine oil again? While you're at it, have you checked your tires recently? Is the tread wearing down unevenly, and your tires in need of rotating? Or is it worn down entirely, and your tires in need of replacement?
Reference your car, truck, or SUV's maintenance schedule in your owner's manual. If you are due for a maintenance appointment, there is no better place to come than Sid Dillon Ford in Ceresco, NE. Are you not sure what your vehicle may need done? We also offer multi-point inspections to give you an overview of your vehicle's health.
We know that just as important as regular maintenance is in keeping a vehicle on the road for longer, it's not easy to make time for in your daily life. Our highly qualified technicians provide exceptional service in a timely manner, and only recommend the services that you need.
We are dedicated to providing the same top-notch service to everyone who walks through our service doors, not matter whether you are bringing your vehicle in for its first scheduled maintenance after purchasing it from us, or have a used car and are stopping in for the first time.
It's easy to schedule a service appointment. Just fill out the fields in the form below with the relevant information, and hit 'Submit'. Our team will be in touch to confirm your appointment time.